Do Your Own Long-Tail Keyword Research
Achieving high rankings for the most competitive keywords is tough, especially if you're running a small business.  While this is not a complete guide on keyword research, the following are just a couple helpful tips on long-tail keyword research.
Therefore, less-competitive and more specialized keywords can make a significant difference. For site owners like you, long-tail keywords may make up most of your site's search traffic. Long-tail keywords could be the topics and titles for targeted articles, blog posts, infographics, videos and other content. Or, they can be used to optimize longer guides and articles that target a single primary keyword.
If you're using PPC advertising (pay per click), these long-tail keywords can help you trim your ad budget as well. Here, you'll learn several low-cost ways to find the best possible long-tail keywords.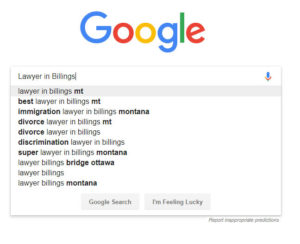 Google Suggest
With Google Suggestions, you can find numerous variations on long-tail keywords. Simply type the primary keyword into Google's search box to see the search engine's suggested variations.
When Google suggests long-tail keywords, those are the phrases people are actually searching for. While you may not use all of them, you'll come away with a good idea of the most popular search terms—and you may find a few surprising combos.
Google's Related Searches
The principles behind Google Suggestions apply equally to Related Searches. These appear at the bottom of the SERPs, below the page's last organic results. You should consider that these suggestions may be personalized to your specific location, because you may have to tweak things to suit customers in different geographic areas.
Use Various Research Tools
If you're sticking to one tool every time you perform long-tail keyword research, you're likely missing out on quite a few variations. Google's Keyword Tool is a great place to start, but if you need multiple long-tail keywords, you can use the below options as well.
The WordStream keyword tool can generate more suggestions than many other tools, as can the Keyword Niche Finder.
Google Trends can determine which searches are trending.
Social media tools like Twitter Search and the YouTube keyword tool
Diversifying your keyword tool usage will help you find more variations on the long-tail keywords you're targeting.
Dive Deeper Into Analytics
Your site's analytics will tell you most, if not all, of the phrases visitors use when searching for your site. By scanning these referrers, you will find a variety of queries that are proven to drive site traffic. While these keywords may be related to your products and services, they may not be targeted by any of the pages on your site, and you can use the info when creating new pages. Go into the analytics dashboard and locate organic referrals; for Google Analytics, the path to take is Traffic Sources > Sources > Search > Organic.
Use eHow
eHow and similar sites are powered by long-tail keyword research. These sites use potent algorithms to find phrases for which they can rank with targeted content. While you may not have their algorithms or data sources, you can still use their methods. By creating valuable, strong, and hyper-targeted content, you can eventually outrank the biggest content farms.
Take a Look at Wikipedia
While Wikipedia may not be the Internet's most optimized website, it's definitely high on the list. Therefore, you can learn a great deal by copying their on-page SEO techniques. When researching base terms, check their Wikipedia table of contents first. Many headings can easily be translated into long-tail keywords. It's also a good idea to perform page searches for primary keywords, as you'll see variations appearing throughout texts. Furthermore, the "See Also" section at the bottom of most articles can help you find related terms.
Borrow From Competitors
Begin with the mid-tail and head terms for which you want to rank, and see which variations are used on pages in the top 5-10 spots. While you may not beat them with mid-tail or head terms, long-tail versions may be available.
Your Takeaway
While keywords may not be the most important factor in SEO anymore, they're still a crucial component. If your site isn't ranking well for head terms, change your focus to long-tail variations instead. Once you pick up a few keywords that work, you may see higher rankings and increased traffic within a few weeks.